Healthcare providers should be able to focus on one goal above all else: outstanding patient outcomes. Automation in healthcare can help achieve this focus. Think of all the resources you devote to administrative tasks: record-keeping, insurance authorizations, billing, medical coding, even just moving data from one system to another. All of the tasks involved in these processes can be fully or partly automated—or, better yet, strung together in end-to-end, human-bot process collaborations we call hyperautomation.
Like any radical improvement to core business processes, the first step toward hyperautomation is achieving buy-in from stakeholders. This article will cover some of the most powerful capabilities of digital automation in the healthcare industry. Share it with fellow decision-makers to reach consensus on the importance—indeed, in a competitive environment, the necessity—of automation in healthcare.

Want to Supercharge Your Revenue Cycle Management?
Watch this on-demand webinar to discover how Intelligent Automation can help improve coding accuracy, streamline clinical documentation, and effectively manage compliance risks.
Automation In Healthcare: 5 Real-World Examples
At Nividous, we've helped many healthcare providers like you automate mission-critical processes. Here are five examples of what automation can do for the healthcare industry, along with the case studies that prove it works.
1. Automated Scheduling And Managing Appointments
Without automation, scheduling staff must navigate multiple software systems, physician schedules, and insurance portals—all while patients wait on the line. Hyperautomation simplifies the process while drastically reducing data errors along the way. It even limits reliance on human staff through integrated voice- and chat-enabled AI assistants.
Example:
An eyecare group used the Nividous hyperautomation platform to automate patient scheduling and related data-handling tasks with Robotic Process Automation (RPA) bots, chatbots, voicebots, and Business Process Management (BPM). The result? Bots scheduled more than half of new patient appointments. This automation allowed the healthcare provider to deliver better customer experiences while reducing the scheduling burden on call center staff.

2. Automated Insurance Pre-authorization
Insurance pre-authorization is a labor-intensive process, traditionally requiring knowledgeable employees familiar with the many disparate insurance portals. Trained RPA bots with Artificial Intelligence (AI) capabilities like Computer Vision (CV) and Optical Character Recognition (OCR) can complete pre-authorization through any insurance portal in an instant. This frees staff to focus on customer service.
Example:
An optometry company used Nividous smart bots to navigate the portals of over 40 insurance providers, eliminating manual processes to improve speed and accuracy at once.

3. Automated Medical Coding And Billing
Medical coding is an ideal use case for hyperautomation; AI is simply better at keeping up with constant changes to the 70,000+ codes involved in the process than even a highly trained human employee. Eliminate errors and optimize staff utilization with hyperautomation, including AI technologies like Natural Language Processing (NLP), which can derive accurate coding data directly from practitioner notes, voice recordings, and EMR systems.
Example:
A leading wound-care group used RPA bots with machine learning capabilities to automate patient wound documentation, generating accurate billing codes and invoices without demands on staff. Coding accuracy reached near-perfection while turnaround time ended up 85% faster.

4. Automated Insurance Claims Processing
Healthcare providers file billions of medical claims each year in the U.S. alone. Robotic process automation handles the rule-based and transactional tasks involved in claims processing rapidly and with total accuracy, while applying hyperautomation for end-to-end processes can tackle any hospital's claims backlog—allowing staff to transition to more patient-focused tasks.
Example:
One leading specialty healthcare company used the Nividous intelligent automation platform to fully automate claims processing, from patient data extraction and review to submission. This reduced manual work by 80% and cut operational costs by nearly half.

5. Automated Revenue Cycle Management
Revenue cycle management is central to success, but it involves many data-heavy, time-intensive processes—especially for providers with multiple locations. End-to-end digital automation can sew together vastly different tasks—claim submissions, data migration, accounting, and even managing price changes—into a streamlined process orchestrated by an AI-powered BPM system. With human workers and RPA bots organized through the Nividous platform, this formerly costly and error-prone process can become remarkably accurate and affordable.
Example:
A healthcare group with more than 120 locations used the standardized Nividous platform to automate everything from claims eligibility to new-store onboarding to online banking.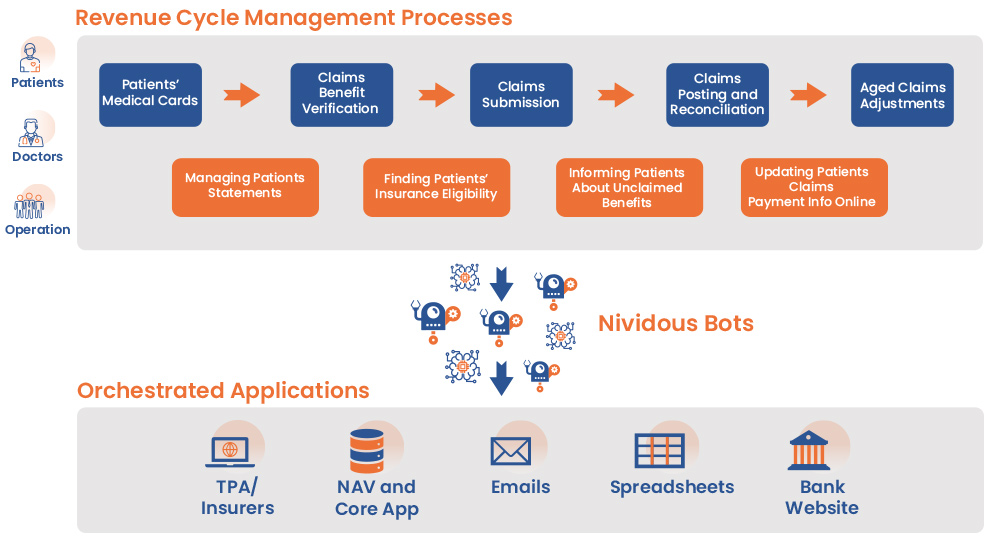 This use of hyperautomation reduced the claim-to-cash interval by nine days—and quickly saved a whopping 37,000+ hours of staff time.

The Limitless Scope Of Automation In Healthcare
Today, healthcare providers are not just automating to optimize costs and improve operational efficiency: They want to shift the focus from repetitive data-handling tasks to true innovation. After all, their highly skilled staff are finally free to spend more time improving patient outcomes—and experiences. For other examples of automation in healthcare, read more Nividous success stories here.

Not sure where to start with digital automation in healthcare?
Get a trained automation bot in less than a month, at no risk, with Nivdous Quick Start Program.