For decades, the manufacturing industry has used physical robots to assemble, test, and package their products. These robots help in streamlining the assembly line but the industry still struggles to keep back-office processes fast and simple. Primarily due to unskilled labor, time-intensive processes, obsolete supply chain management systems and frequently changing regulatory requirements. In order to overcome these pain points, manufacturing companies are turning to process automation tools such as Robotic Process Automation (RPA) to streamline and optimize complex back-office operations such as vendor communication, payment processing, report generation, etc. Robotic Process Automation in manufacturing has truly emerged as a key enabler for process automation. Let us look at what analysts and research firms have to say.
A study by global technology research firm Information Services Group suggests that 72% of companies are expected to adopt robotic process automation to minimize costs, reduce average transaction handling time, increase productivity, and improve compliance management.

According to the Information Services Groups (ISG) study, the automation technology is allowing for a 43% reduction in required resources for order-to-cash processes, 34% for invoice processing, and 32% for vendor management.
[ Learn what is RPA, and how does it differ from traditional automation.]
These are the significant benefits of RPA in manufacturing. Businesses, especially those who are concerned with the timely and quality output from their core business processes should definitely consider applying RPA.
The manufacturing industry has seen industrial automation empowered by 'Physical Robots'. But there is a need for disruptive technology such as Robotic Process Automation in manufacturing that can help businesses to focus more on product innovation and core strengths instead of day-to-day repetitive tasks that are critical but mundane in nature.
Robotic Process Automation enables the automation of rule-based operations to enhance process execution speed and accuracy. Further, RPA solutions are easy to implement and do not require coding skills. RPA also seamlessly integrates with existing legacy systems without costly and time-consuming software development.
Companies can get started with a pilot project by choosing a specific set of operations and can observe tangible and measurable results within weeks of implementation.
Benefits of Robotic Process Automation in the manufacturing industry include:
Up to 40% reduction in operational cost
Increased control and visibility into end-to-end processes
Freed up resources who can focus on more productive tasks
Significantly lower downtime and increased quality
Read this blog to learn more about the benefits of robotic process automation.
Though RPA can automate a range of operations across the enterprise, it is important to identify RPA eligible processes and its scope of implementation. Below is the list of attributes that make a task or activity likely to benefit from RPA.
| | |
| --- | --- |
| Task Attributes | Detail understanding of each attribute |
| Rule-Based | Activities that can be completed by following well-defined rules |
| High volume | The ROI potential of RPA is higher as the transaction volume increases |
| Low exceptions | Tasks with limited variations and fewer exceptions |
| Constant and well-defined process flow | Mature tasks with well-defined workflow and that stay relatively unchanged |
| Low system change | Processes that require limited or no change to existing systems |
| Organized data | Activities that require working with structured data and readable electronic inputs (Excel, Word, PDFs, etc.) |
Operations such as extracting and updating data from multiple enterprise-grade applications such as enterprise resource planning, customer relationship management, third-party regulatory portals, independent systems of vendors and logistics companies are highly time-consuming and prone to errors.  It can take weeks to complete these tasks and also typically requires significant manual labor since all these systems are often not well integrated. RPA bots can fill the integration gap by automating such operations within the existing systems.
[Download the free RPA eBook guide to learn more about the technology.]
Let's take a closer look at some of the areas within manufacturing that can benefit from RPA to understand the potential scope of process automation for such operations.
RPA Examples in Manufacturing
1. Purchase order creation:
The manual process for purchase order creation can be daunting for midsize to large organizations dealing with multiple categories of products. With the help of RPA solutions, the entire process of PO creation can be automated enabling 100% accurate and speedy results. The process is automated based on a rule-based workflow that takes care of extracting data from independent systems, seeking email approval from concerned departmental heads, and processing the request of PO generation.
2. Inventory management:
The process of inventory control is of vital importance and lies at the core of supply chain management. Real-time monitoring of inventory levels is required to ensure that demand can be met. RPA helps in automating various functions such as monitoring inventory, generating notifications about the stock levels, and reordering products when the levels go below a set threshold. This can be done with minimal human intervention.
As an added bonus, implementing RPA automatically results in the creation of a detailed audit trail. Live dashboards and reports also provide information about business patterns and internal workings that can reveal potential bottlenecks. These insights can be utilized to remove the disruptions within the supply chain for process optimization and improvement.
3. Vendor communication:
In the manufacturing industry, the day-to-day communication between vendors, customers, and the internal workforce requires a large amount of manual effort. E.g., the customer service representative handles various queries including the status of the goods shipped. The representative typically finds the email communication, tracks the shipment status in the ERP system, sends an update to the customer, and closes the case.
RPA, however, can take over the entire process by opening the email, reading the text, downloading the attachments if required, logging into the ERP portal, determining the status of the shipment, replying to the customer, and moving on to the next customer email.
The entire process requires no human intervention unless there are some exceptions. Such automation can eliminate up to 65% of the manual effort, enabling employees to resolve more customer queries in less time.
Nividous' robotic process automation platform is used by leading manufacturers across the globe to automate both back and front-end operations.
Let us take a look at some of the success stories.
A high-tech manufacturer uses Nividous RPA to automate back-office operations
Problem: High skilled employees spent a considerable amount of time performing manual processes across multiple systems. Job requisitions, purchase orders, contract compliance, invoice reconciliations, and customer requests were incredibly time-consuming and created a negative impact on the success of a product launch.
Solution: The Nividous team automated more than 20 business processes using Nividous RPA to streamline back-office operations related to administrative, human resources, accounts, and purchase department. The customer was able to achieve a 60% improvement in overall process complementing time and reduce operational costs by 40%. Read the complete success story of RPA in manufacturing back-office operations.
A leading telecom company automates procure to pay using Nividous RPA
Problem: The end-to-end process of setting up a field network involved various manual operations related to purchase management, timely status updates to vendors, invoice processing, etc. The key challenge was to complete the whole process with speed and security, where the data was collected and updated from independent systems.
Solution: Nividous first standardized the end-to-end process within the core ERP system and then enabled process automation to RPA eligible operations. This helped in eliminating third-party access to their legacy systems making it secure and error-free. Nividous Bots performed outlook, excel, and web automation to reduce the average process handling time by 50%. Read the complete success story of RPA in P2P process.
A leading manufacturing company automates its end-to-end Invoice Processing
Problem: The company receives hundreds of invoices from multiple vendors. The manual process of transcribing data from different types of invoices into SAP required employees to spend a significant amount of time and effort. The manual operations were highly time-consuming and delayed the processing considerably. The complete process was further delayed due to several approvals from different departments.
Solution: Nividous Bots having natively embedded machine learning, computer vision, and OCR capabilities were deployed to read details from several unstructured data sets and feed them into SAP with very high accuracy. Moreover, The Bots present the extracted data with a confidence score (customizable) using an intuitive interface allowing the user to locate, review and annotate corrections with ease. Read the complete success story of invoice processing using RPA.
Conclusion
RPA is a key enabler for digital transformation initiatives within the manufacturing industry. Accounts payable process automation, invoice processing automation, and supply chain automation are a few of the areas where RPA can optimize the core operations and can enable improved agility, speed, and quality. Moreover, manufacturers can realize a tangible ROI within weeks.
If you have not yet considered the application of RPA within your manufacturing business and you would like to learn more, email us on [email protected] and our expert consultants will reach out to you within one business day.
If you are interested to learn more, watch the On-Demand Webinar on RPA in Manufacturing Industry.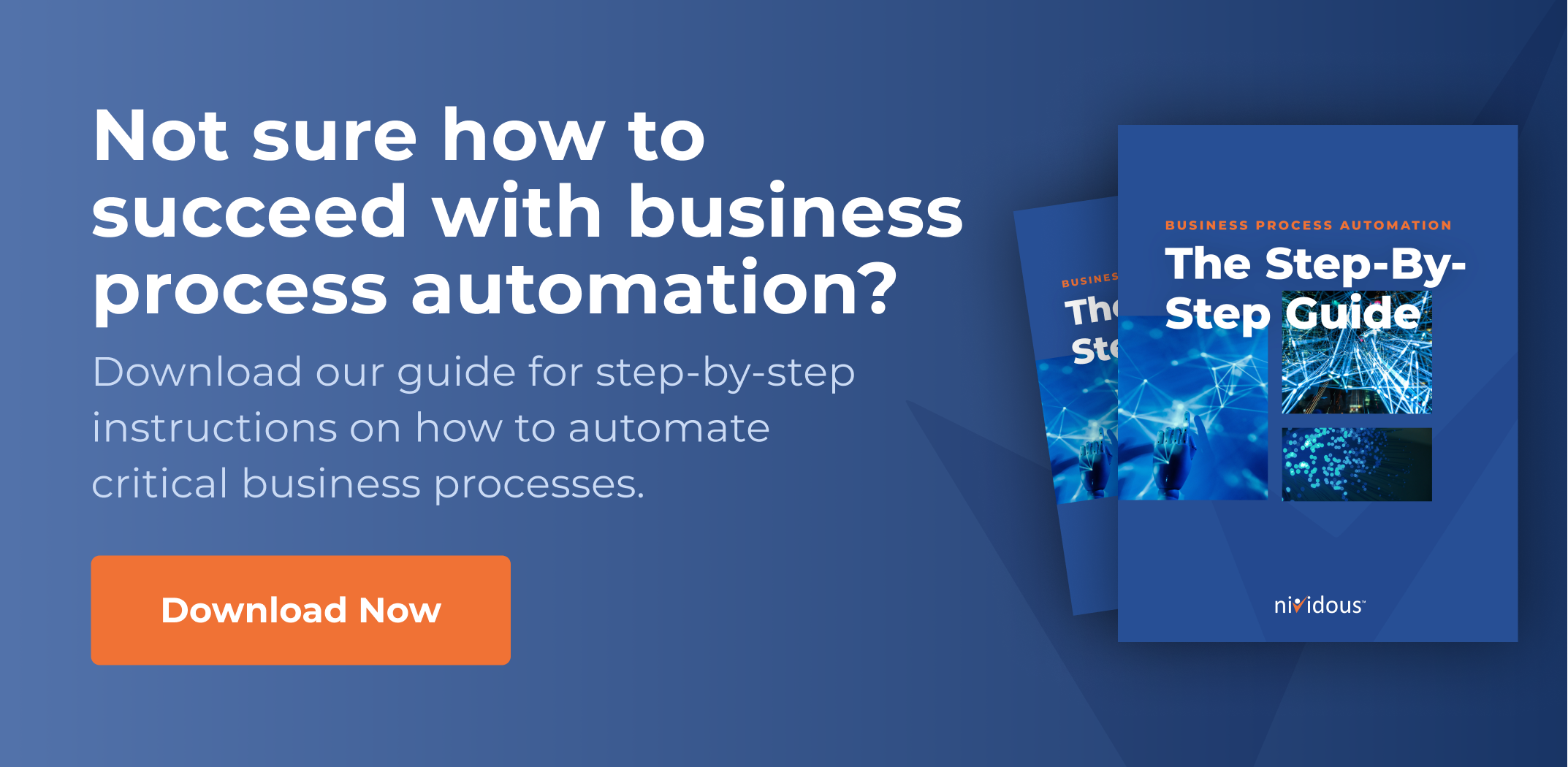 This blog is initially published on July 21, 2018.