The adoption of Robotic Process Automation (RPA) is growing rapidly. According to a recent report published by Fortune Busines Insights, the global robotic process automation market size is projected to reach USD 6.81 billion by the end of 2026. Leading analysts also estimate a dramatic increase in the market size of RPA technology.
As per Gartner, the market size for RPA solutions is estimated to reach $2.4 billion by the year 2022.
As per Forrester's RPA trends and forecasts, the market for robots in knowledge-work processes will reach $2.9 billion by 2021.
Today, RPA has become an essential tool for most businesses, including banks. The banking industry is witnessing rapid turbulence caused by the global pandemic and economic instability. Amidst the COVID-19 situation, banks are looking for all the possible ways to cut costs and drive revenue growth. RPA in the banking industry is proving to be a key enabler of digital transformation.
RPA Use Cases in Banking
While end-to-end automation is often the ultimate goal, targeted automations using RPA, if applied for the right use cases in banking operations, can deliver significant value quickly and at a low cost. The following infographic shares a few key examples of RPA application in banking for operational resiliency, which has become a necessity in the times of the COVID-19 crisis.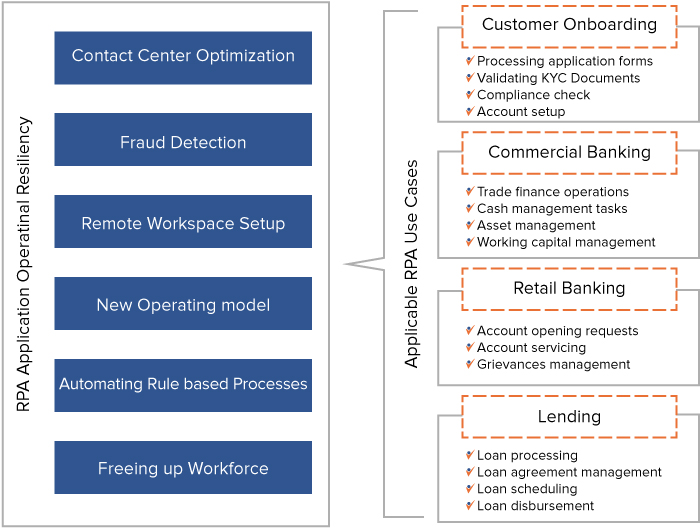 Examples of Robotic Process Automation (RPA) Use Cases in Banking Under COVID-19 situation
There are numerous RPA use cases in banking in addition to what is mentioned in the infographic. The list below highlights some of the most rewarding RPA use cases in the banking industry.
1. Contact Center Optimization
As most physical interactions with customers are non-operational or operating with limited capacity during this COVID-19 crisis, banks are facing a huge volume of inbound calls at their contact centers. RPA tools and chatbots can help in handling a significant portion of this traffic. For example, the Bots can handle routine queries related to account statements and transactions, while queries that require human decision making are escalated to appropriate knowledge workers.
2. Trade Finance Operations
Banks can leverage RPA solutions to scale-up their trade finance operations and improve their presence in the financial supply chain. A leading bank in India makes use of Nividous RPA for automating processes related to issuing, managing, and closing letters of credit – the most preferred trade finance instrument. The automation enabled by Nividous RPA Bots improves the total turnaround time by 70%, enhances process visibility by 80%, and delivers a 50% reduction in operational costs. Read the full case study
3. Customer Onboarding
The customer onboarding process for banks is highly daunting, primarily due to manual verifications of several identity documents. Know-Your-Customer (KYC), an integral part of the onboarding process, involves significant operational efforts for such document validations.
As per the recent survey conducted by Thomson Reuters, the cost of running KYC compliance and customer due diligence can be significant, ranging from US$52 million a year (for a bank) to approximately US$384 million.
Nividous has built KYC solutions that combine RPA with computer vision (CV) and intelligent optical character recognition (OCR) to extract relevant information and validate identity as provided by the customer in the application form. The automation not only helps in eliminating manual errors but also saves significant time and effort for the back-office operations team.
4. Anti-money Laundering (AML)
A recent report by Booz Allen Hamilton states that anti-money laundering analysts typically spend only 10% of their time on analysis. The majority of their efforts, close to 75%, goes into data collection and another 15% into data entry and organization.
One of the best examples of RPA in banking is the automation of the complete AML investigation process. The process is highly manual and takes anywhere between 30 to 40 minutes for investigating a single case depending upon the complexity and availability of information in various systems. These repetitive and rules-based tasks can be easily automated with RPA, enabling more than a 60% reduction in process turnaround time.
5. Bank Guarantee Closures
This is a very specific yet highly relevant RPA use case for many banks. The bank guarantee closure process ideally requires a team of knowledge workers to manually transcribe the data between multiple disconnected legacy systems and identify bank guarantees due for closure/termination/discharge. The generation and distribution of notice letters and execution of reversals/closures are also done manually. Besides, there are several manual verifications at each stage that deplete the overall productivity. RPA can be used to successfully automate the complete process.
A leading bank in India has successfully implemented Nividous RPA Bots to automate the entire bank guarantee closliure process achieving faster customer communication and a 45% reduction in process handling time. Read the full case study
6. Bank Reconciliation Process
The bank reconciliation process is highly time-intensive requiring knowledge workers to manually find a huge chunk of transactional data involving multiple banks and balance the final figures. RPA Bots can be programmed to replace manual efforts with several rules-based automations, including verifying each payment entry against bank data and other records. If the entries are matched, the records are reconciled. However, in case of any discrepancies, the Bots can send the records for further verification.
7. Loan Application Processing
The loan application process is a very good automation candidate for banks as well as financial institutions. Generally, documents for loan and appraisal requests are received in the form of bundled PDFs via emails. Data extraction from applications and its verification against multiple identity documents and assessment of creditworthiness are some of the key manual tasks. RPA Bots with artificial intelligence (AI) capabilities can be leveraged for intelligent data extraction and automating a range of these manual tasks. Check the following demo video on the Nividous RPA Platform being used for loan origination process automation.
Nividous Smart Bots with native AI and machine learning (ML) capabilities are deployed to automate several manual operations involved in the loan application process.
Text classification and entity recognition – Nividous Bots read emails and intelligently classify and assign them to respective agents.
Data extraction from loan/appraisal documents using natively embedded computer vision and human-bot work orchestration capabilities.
Fraud propensity detection using predictive ML models.
8. Automated Report Generation
Many banks and financial services providers are utilizing RPA to automate manual tasks involved in report generation and are able to realize an immediate return on investment (RoI). Automating the report generation process includes a range of activities such as optimizing data extraction from both internal and external systems, standardizing the process of data aggregation, developing templates for reporting, review, and reconciliation of reports.
9. Account Closure Processing
The end-to-end account closure activity involves a range of manual tasks such as checking documents' availability in the bank's records, sending emails to clients and branch managers, and updating the data in the system. RPA Bots can automate all of these manual tasks so that the knowledge workers can focus more on productive operations.
10. Credit Card Application Processing
RPA-enabled automation for credit card application processing is another use case where banks have seen phenomenal results. RPA allows for the issuance of a credit card to customers within hours. RPA Bots can navigate through multiple systems with ease, validate the data, conduct several rules-based background checks, and decide to approve or disapprove the application.
Many leading banks have already started to re-strategize their operational models to leverage automation-led disruption and RPA is one of the key technology enablers in the current situation. We, at Nividous, have worked on numerous automation use cases across industries, including banking that range from customer service desk automation, employee onboarding, risk compliance management to retail fraud detection. Many of these solutions leverage simple automation with RPA but others are more complicated involving multiple other technologies that are included natively within the fully Hyperautomation capable platform.
If you are interested to learn more about the use of Nividous RPA in the banking industry, watch the on-demand webinar on 'RPA in Banking and Financial Services' today.