Robotic Process Automation (RPA) and Artificial Intelligence (AI) have gained a lot of interest recently for their ability to significantly reduce operational costs while driving efficiency, enhancing customer and employee experience, and delivering faster ROI.
According to leading analysts, the global RPA market is expected to reach $25.56 billion by 2027, and the AI market is estimated to reach $390.9 billion by 2025.
But despite the hype and conversations around these two technologies, people lack clarity on what differentiates them, what each is uniquely good at, and when they can be used together.
To start with, RPA and AI are two different yet complementary technologies. While RPA is used for automating repetitive, rules-based tasks, AI, on the other hand, augments the automation and helps in automating more complex, decisions-driven tasks. When these technologies are used in tandem, businesses can scale their automations to involve more people in their larger digital transformation goals.
Let us take a closer look at what RPA and AI have to offer, how they differ, and when these complementary technologies can be used together for end-to-end automation.
First, what is RPA?
RPA uses software robots (bots) to perform work by emulating human actions through the user interface of any system. These bots are your digital assistants. They let you offload repetitive and arduous tasks that are not complex yet consume valuable employee time.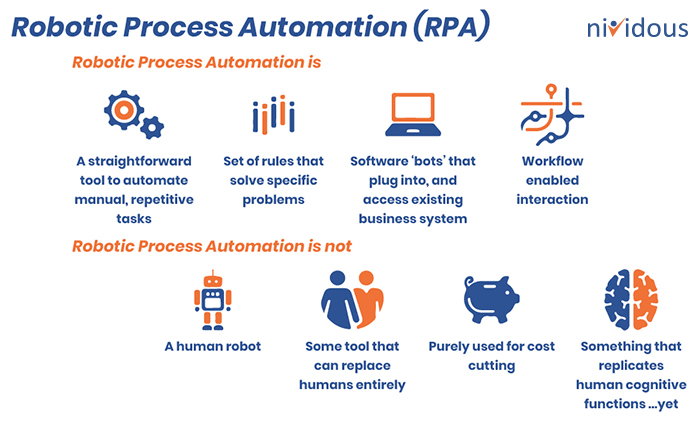 RPA works best for some of the most common, time-consuming, and rules-based business processes such as:
Opening emails and attachments
Cleaning/formatting excel sheets
Navigating different applications/systems to transcribe data
Extracting data from structured documents
Performing pre-defined tasks on-demand
The bots can do tasks the same way every time, quickly, without any need for breaks or quality checks. They can also be trained to perform multiple tasks and switch seamlessly from one to another as needed to meet the demand. Some of the key benefits of using RPA:
Speed: 4-5 times faster execution with 24/7/365 availability eliminating delays
Accuracy: Error-free results minimizing the potential risk and cost associated with it
Compliance: Fully maintained logs (audit trail) essential for appropriate compliance
Productivity: Freeing-up knowledge workers for more value-added tasks
Efficiency: Integrates scattered processes and delivers enhanced efficiency
Besides, RPA is not just used for cost-cutting. It can improve customer service as well as boost employee satisfaction improving their engagement and morale.
An Example: RPA for Report Generation in Wealth Management
Consider a wealth management firm using 'Attended Automation' enabled by RPA bots to automate its report generation process. The manual process requires highly valued professionals to generate and distribute several financial reports. They need to navigate through multiple external websites, legacy systems, and emails depending upon the customer requests.
'Attended Bots' with captcha handling capabilities, and role-based access easily interact with multiple internal and external investment websites and legacy systems to generate and share various types of reports. Moreover, automated emails, detailed audit reports, and strict compliance checks can significantly increase the effectiveness of end-to-end automation. The upshot? Reduced report generation cycle time, improved process visibility, and reduction in administrative efforts.
RPA is ideal for automating straightforward tasks. However, Artificial Intelligence can take that simple automation to the next level involving more complex processes that require human-like judgments.
What is Artificial Intelligence (AI) and How Does it Differ from RPA?
AI brings in the human-like cognitive decision-making to offload some more manual yet complex work from the human workforce that RPA alone cannot do. AI uses large data sets with quick, iterative processing and intelligent algorithms, allowing the bots to learn from patterns in the data and automate complex processes. Let us take a look at what AI can do to augment automation and human experiences:
Handling data residing in semi-structured and unstructured documents
Comprehending conversations using natural language processing
Discovering processes and tasks for greater automation
Forecasting with utmost accuracy based on large data sets

Ready to Transform Your Business with AI, NLP, and Automation?
Join our live webinar on Oct 12, 2023, at 1 PM EST and discover how AI, NLP, and advanced cutting-edge automation technologies can supercharge your growth, streamline processes, and reduce costs.
An Example: Artificial Intelligence for Customer On-boarding
The customer onboarding process generally requires field agents to collect end-customers' primary details and supportive documents. Information can be captured on the field with mobile devices and manually verified by back-office staff for further processing. Apart from expediting the verification process, the other primary challenge is detecting fraudulent activities. The risk can be mitigated by deploying AI-enabled automation for intelligent data extraction in the field. This eliminates the post-verification process by administrative staff also in addition to minimizing the potential risk of fraudulent activities.
Nividous' automation platform has native machine learning capabilities that enable accurate detection of text and images from a range of documents, and autofill the data in a mobile app-based application form. Read the complete success story.
AI is a powerful tool that adds human-like intelligence to logic-driven RPA automation. In the above example when AI is used for intelligent data extraction, RPA can be used to transcribe the extracted data into any desktop/web-based system.
Continue reading to better understand how these two technologies complement each other to deliver greater ROI and end-to-end automation.
RPA + AI Enabling End-to-End Automation
AI and RPA together can help businesses to move from siloed automation towards end-to-end automation and greatly expand the scope of automation possibilities. This combination drives better operational efficiency providing more opportunities to automate at scale.
When to deploy RPA and when to bring in AI?
A simple rule of thumb is to start small by introducing RPA first and then expand the scope of automation leveraging AI. Start looking for quick wins by analyzing the end-to-end workflow of any process and identify rule-based tasks within that workflow that can be best automated by RPA.
RPA lays the foundation providing an integrated framework on top of your underlying digital systems. Once it is established, it is easier to introduce AI for more complex processes. But if you have already invested in automating several business processes, you can start looking for ideal candidates for AI such as processes that require predictive analytics (e.g. inventory forecasts, loan defaults, etc.), processes that rely on unstructured or semi-structured data, and processes that are highly variable and do not depend on any set rules.
Think about a simple example of invoice automation. If the format of the invoices varies considerably, machine learning models can be used to train bots to read, interpret, and learn from varied data sets enabling more accurate invoice processing while improving efficiency.
Watch Nividous' Intelligent Document Processing Demo for Invoice Automation
It is important to note that AI is here to augment people and not replace them. In fact, human-bot work orchestration is a key piece of the end-to-end automation. That is where Nividous differentiates itself. Nividous' automation platform offers native Business Process Management (BPM) capabilities along with native AI capabilities for complete automation.
The way RPA and AI together enable you to achieve optimal, automation-enabled benefits, BPM connects the dots integrating processes, departments, and humans. The only way to realize true digital transformation is through the complete convergence of RPA, AI, and BPM. All these capabilities are native to Nividous' automation platform and don't require any additional tools, integration or licensing. That's how Nividous is proudly enabling its customers to enjoy a unique competitive edge through its natively available platform capabilities for holistic automation.
If you are interested to learn more about the platform, request a demo or write to us at [email protected]