How much do you spend on your company's digital infrastructure—and the staff who keep it all running?
In 2021, total IT spending averaged 2.5% of revenues across industries. That may not look like much, but it's a significant figure, equivalent to an average of $7,878 per system user.
In some industries, the IT budget as a percentage of revenues is much higher: up to 4.7% in high tech, 5.9% in healthcare, and over 11% in financial services. Clearly, businesses in every industry invest significantly in IT. Surprisingly, there is one IT investment that can actually bring spending down: automation.
To control IT costs—while also improving efficiency and productivity for existing IT teams—organizations are increasingly adopting IT process automation. This subset of broader digital automation technology can help your operation, too. Here's how.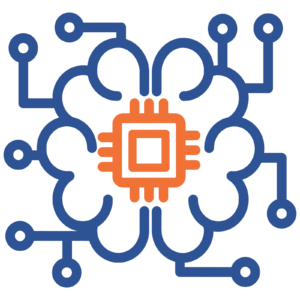 Struggling to reduce your IT costs?
The Nividous intelligent automation platform can help. Find out how much you'll save with our free Return on Investment (RoI) calculator.
Real-World Examples of IT Process Automation
Before we get into the nuts and bolts of IT process automation, let's look at what it can do. The technologies discussed below can automate key day-to-day IT processes including:
Onboarding and offboarding of users, including account generation, access management, and account dissolution
Management Information Systems (MIS) reporting
Workflow integration between cloud-based Software as a Service (SaaS) applications and legacy platforms
Spend management for SaaS subscriptions
Help desk tasks and processes
This last item is a big one. Many specialists at the IT help desk are busy completing the most common jobs—resetting passwords, assigning support tickets, and generating utilization reports. That doesn't leave them a lot of time to tackle more complex requests—like fixing the system your sales team depends on, for instance. Automation can free staff from ticket processing tasks so they can focus on delivering greater value to the organization.
That's what one global media company discovered when it used the Nividous hyperautomation platform to improve key IT service desk processes. The global IT team was handling more than 100 support queries every day, with multiple types of support tickets requiring a wide range of manual tasks. The company managed these tickets with Manage Engine.
The Nividous platform introduced smart Robotic Process Automation (RPA) bots to gather tickets from Manage Engine every two minutes. The bots used integrated Machine Learning (ML) and Artificial Intelligence (AI) technologies to correctly identify and categorize these tickets. They automatically entered relevant data from the tickets into the company's web portal—and they completed the entire process without human intervention.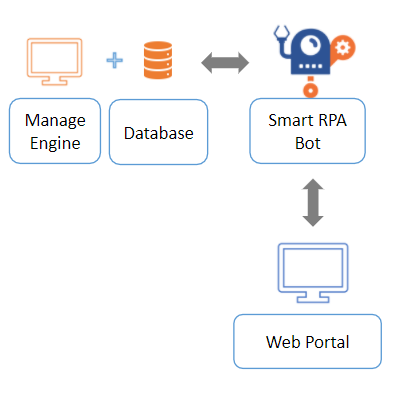 After introducing this automation, the media company's IT department saw significant improvements, including a 95% reduction in manual effort, 85% faster turnaround time on tickets, and a complete elimination of human errors throughout the process. So how does IT process automation technology work?
IT Process Automation: What It Is And How It Works
You're probably familiar with digital process automation, which we've defined elsewhere as "the use of advanced technologies to execute complex business processes from beginning to end, with and without human participation."
We're not talking about simple task automation for IT systems, though there are plenty of off-the-shelf software products that automate server backups or network monitoring. Full IT process automation is different from task automation in that it breaks down the silos to complete entire workflows, freeing people from doing any number of repetitive IT tasks.
The discrete technologies that make up an end-to-end process automation system include:
Robotic Process Automation (RPA). Software built to perform a series of tasks is called a "bot," and RPA bots are the key to integrating all the systems in your IT infrastructure. RPA bots complete rules-based tasks through any combination of applications, operating them through the user interface to avoid complex back-end integration—and sparing staff members from doing data entry and other mundane, repetitive work.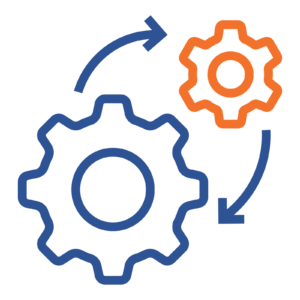 Business Process Management Systems (BPM). While RPA bots complete individual tasks, BPM organizes those tasks into a complete, end-to-end process. A BPM system organizes a start-to-finish workflow, orchestrating jobs between RPA bots and human employees while collecting crucial process data.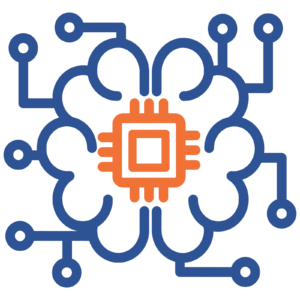 Artificial Intelligence (AI). End-to-end process automation with AI components is called intelligent automation, and it allows automation systems to handle more complex tasks and processes. Examples of AI in digital automation include computer vision and Natural Language Processing (NLP), which enable Intelligent Document Processing (IDP); machine learning, which trains RPA bots for continual improvement; and predictive analytics, which converts big data into usable insights.
The combination of AI, RPA bots, and an end-to-end BPM system can automate key IT processes, as illustrated above. That frees your people to handle exception cases—those help desk requests that require deep investigative skills that only humans can provide. If that sounds valuable for your organization, bring the Nividous intelligent automation platform to your IT department today.
IT Process Automation On The Nividous Platform
The Nividous intelligent automation platform provides everything IT departments need to automate common processes from beginning to end. Code-free RPA design, a BPM Control Center, and native AI components integrate existing systems into streamlined automations for entire IT processes. The Nividous platform is an all-in-one tool for IT process automation—and more.

Ready to start saving with IT process automation?
Get results with a trained RPA bot in less than four weeks with the Nividous Quick Start program.