The accounts payable (AP) process is the backbone of any organization as it directly impacts cash flow optimization, fraud prevention, and vendor relationships. Advancements in automation technologies have made accounts payable a major area of focus for process improvement in small to mid-sized organizations. Technologies such as robotic process automation (RPA), artificial intelligence (AI), and business process management (BPM) are gaining attention for their ability to automate manual, time-intensive tasks that obstruct the overall efficiency of the accounts payable processes.
With this in mind, let's first look at how accounts payable works, then discuss how organizations today are using RPA, AI, and BPM to gain clarity and cost savings by automating the accounts payable process.

Interested in how automation can yield better ROI than any other advancement for accounts payable?
Try out our ROI calculator and enter your own numbers!
Accounts Payable Process Automation: An Overview
First, let's examine how today's accounts payable process works without automation.
Accounts payable (AP) teams rely on business units, procurement, and third-party vendors or suppliers to capture information and process invoices for payment.
There are at least four to five stakeholders and departments involved in any accounts payable process automation, so cohesion within your organization's processes—and cooperation between human employees and automation tools—is vital for invoicing and AP success. Some companies even outsource AP to an external team, use business process outsourcing (BPO) to handle logistics, or use a Shared Services setup to process invoices. External shared service centers like these handle a high volume of invoices, and expose your important business processes and data to a large external team.
Generally, invoices from different suppliers vary in formats: paper invoices, word documents, PDF attachments via email, or a vendor portal. There are also different categories of invoices, such as:
Invoices for services
Expenses for internal employees
PO-based invoices
Non-PO-based invoices
Raw material invoices
Freight invoices
Moreover, invoice data is not always in a structured layout. Many times, they are semi-structured or unstructured. Here's the process in more detail:
Your procurement team creates a purchase order (PO) that serves as a contract between your business and the third-party vendor to exchange cash for their products or services. The PO lays out the basic information such as quantities of the materials, agreed price of the order, when to fulfill the order, etc.
As soon as the invoice comes in and the good or services are delivered, a Goods Receipt Note (GRN) is created. This GRN, once generated, is handled by a master of GRN assigned to approving these documents. It's also maintained in the system and used to perform business validations (see Step 4).
The quality control (QC) team scrutinizes the items delivered. Every organization has different parameters for their deliveries and materials; this QC team determines whether deliveries are acceptable or not, how many items within each order are acceptable, and how closely the inspected order matches the original PO. If there is any mismatch or damage, the team will follow up with the vendor for credit or replacement.

If there are any damaged goods, most organizations implement a bifurcation of processes. One team decides where the discarded and rejected items go, and another decides what to do with the accepted portion of the order—which now may be significantly smaller than what the original purchase order called for.

The vendor then shares the invoice that lists their records indicating what they have delivered at what price. However, before your AP team makes the payment, the invoice needs a thorough review/approval through a two-way match or three-way match of an invoice, for non-PO & PO-based invoices, respectively. These matches are made against PO and/or the GRN.
Lastly, a payments team clears incoming invoices with the QC and GRN teams after reviewing all the details, the system notifies the vendor that their invoice has been cleared, and the company sends payment to the vendor's account.
Mid-to-large-sized businesses receive hundreds or thousands of invoices weekly. They face three significant challenges in their efforts to streamline the invoicing process:
Timing—It takes between 4.1 and 16.3 days for companies to process an invoice from receipt through payment approval.
Cost—If done manually, both the cycle time and the cost are affected. Manually processing one invoice can cost as much as $23.
Data extraction—Optical character recognition (OCR) data extraction involves conversion of images of typed or printed text into machine-encoded text, whether from a scanned document or photo of a document—which is an even more complex process than RPA bots are usually equipped to handle.
How Automation Improves the AP Process
Manual tasks—which include detecting purchase orders, scanning invoices, extracting data for verification, and posting the data into an ERP system—can all be automated by combining RPA, AI, and BPM.
RPA In The Accounts Payable Process
As with many other industries and tasks, robotic process automation for accounts payable is most helpful in rule-based scenarios. By themselves, bots are able to perform certain tasks the same way, repeatedly, day-in and day-out. RPA is especially helpful for organizations whose AP department processes invoices that always contain the exact same fields.
AI In The Accounts Payable Process
AI is helpful in those cases where an extra layer of intelligence—beyond the capabilities of RPA—is needed. AI can "train" RPA bots, employ machine-based learning, or otherwise aid in adjusting automation so that it fits unique and changing scenarios. This type of automation is best for organizations with changing invoices, unique purchase orders, and data entry rules that change from day to day.
BPM In The Accounts Payable Process
Business process management is especially helpful in maintaining cohesion between AP and other departments. It's imperative to provide team leaders with one centralized, automated workflow platform so they can communicate with each other quickly and easily. Because of this need for centralization, BPM is the most important tool for AP automation. It helps leverage RPA and AI in a more intelligent way, connecting the two tools under one roof for team members. BPM even helps bring a company's existing disparate tools together—without it, AP automation will be piecemeal, not end-to-end.
Automation reduces the cost of processing by 80%. But cost reduction is just one of the many reasons why businesses need to automate their accounts payable processes. Together, RPA and AI can automate a range of manual tasks, eliminating most payment delays and human errors. Some of the areas where RPA and AI can apply are:
Intelligent data capture from different types of invoices (physical, scanned, emailed, faxed, electronic data interchange – EDI)
Invoice classification and sorting
Duplicate invoice checking
Data validation against ERP
Invoice exception flagging
Invoice approval routing
Automated tasks and reminders for payment
Seamless flow of information through discrete systems
Reporting and analytics
Benefits Of Using Automation In The Accounts Payable Process
Improved turnaround time
Increased process transparency
Better compliance and process control
Significant improvement in data accuracy
Reduced human errors and costs
Optimized cash flow
Improved relations with vendors
Enhanced customer satisfaction
Most Popular Ways To Automate Accounts Payable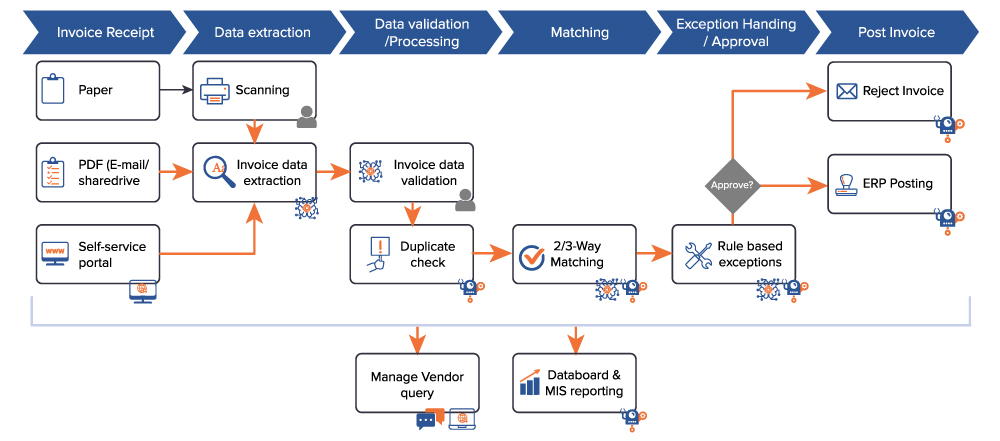 The most popular tasks and processes to automate within accounts payable include:
Touchless Invoice Processing
RPA bots alone can handle structured data types in the same way each time, but need advanced automation to process unstructured and semi-structured data types. This is where artificial intelligence can help. AI-based machine learning models are used to train the RPA bots to effectively interpret and extract data with higher accuracy eliminating human involvement for a variety of invoice formats.
Rejected Item Process Restructuring
All teams involved in the accounts payable process—including procurement, security, receiving managers and masters of GRN, quality check, and others—must make changes to their typical procedures when delivered items are damaged or rejected. BPM helps teams work together seamlessly, even when orders change. Furthermore, BPM-driven platforms offer teams a centralized space for communicating and checking on their workflow tasks.
Invoice Categorization
As mentioned above, there is often a vast array of invoice categories, especially within large manufacturing companies. Each category has its own independent flow and complex business rules. BPM is helpful at recording all these different business rules and assigning them to the proper team members (for the proper invoices), meaning even complex rules can be followed to the letter.
Invoice Data Entry
RPA Bots seamlessly interact with a range of applications and systems, including ERP or any accounting system to feed the extracted data. By automating the invoice data entry process, you can expedite the AP approval process and minimize the risk of human errors and the cost associated with it.
OCR Data Extraction
The use of OCR creates a huge barrier to automating AP. Many invoices don't just include text; they might also contain images, handwriting, or other complex elements for automation to handle. AI thus plays a very important role in this type of automation, building a model that is resilient to the document structure changes that regularly happen in invoice processing.
Two-Way and Three-Way PO Matching
The matching of invoices against purchase orders (POs) is called a two-way match, and when matched against both POs and goods receipts, it is called a three-way match. This process involves comparing invoices line-item-by-line-item against these essential documents to reconcile discrepancies in purchase amount or vendor contact information. The manual PO matching process is a highly time-consuming and burdensome activity for accounts payable staff.
RPA Bots can automate most of this manual matching, thus reducing oversight required and exception handling. As a result, employees can focus on more critical finance responsibilities, such as budgeting and planning.
Accounts Payable Approval Process
Automating the invoice/AP approval process along with PO matching significantly eliminates the need for human intervention. Invoices can be automatically routed to the appropriate approver once matched effectively. Automated follow-ups are triggered to remind them of upcoming deadlines.
RPA, AI, and BPM In Accounts Payable Case Studies
Nividous helps businesses streamline their AP processes with a holistic automation approach. The Nividous platform natively includes RPA, AI, and BPM, allowing you to automate more tasks with enhanced process efficiency. Machine learning models are built-in to process a range of structured and unstructured documents with the ability for humans to annotate feedback on the fly.
The natively embedded BPM component included in the platform can help in streamlining end-to-end accounts payable workflow for complete automation. You also get:
Custom dashboards for business users with slice and dice reporting
Real-time visibility of the process workflow within the same platform
Intuitive and interactive interface for human review

Interested in Taking Your Accounts Payable Functions to The Next Level?
Watch our on-demand webinar and discover how AI-powered intelligent automation helps you accelerate AP efficiency while reducing costs, eliminating manual errors, and optimizing cash flow.
Let's look at some accounts payable process automation case studies, where leading companies have used the Nividous platform for end-to-end process automation.
1. Success Story of CNM LLP, A Leading Financial Advisory Firm
CNM LLP uses resources billed at hourly rates who work on multiple projects to offer accounting services to their end-customers. Ensuring that the proper rate is used, for a given resource, in a given role for the customer, required a manual comparison of timesheets to engagement letters before creating the invoice.
This manual process was automated using Nividous RPA Bots scheduled to fetch and compare semi-structured and tabular data from letters against timesheets using intelligent OCR capabilities. The Bots create any missing rates in the invoicing system and flag any discrepancies in a report sent to the stakeholders. The Bots complete the data extraction and entry tasks for hundreds of records in just a couple of hours without any human intervention.
Watch an on-demand webinar jointly organized with CNM LLP to learn more about this success story.
2. Automating Complete Accounts Payable Process for a Leading Consumer Goods Company
The company receives more than ten thousand invoices monthly from over 400 vendors across the globe. It required significant staff time to manually extract data from invoices and then review, approve and enter data into ERP.
Nividous' intelligent automation platform for the accounts payable process was deployed to automate as many manual tasks as possible. Natively embedded RPA, AI, and BPM capabilities within the platform allowed for seamless management of invoices, approvals, and vendors within one single interface.
3. Automation of Varied Formats of Release Orders for a Leading Media Company
This media company receives over 1000 release orders daily from more than 11000 agencies. Each agency/vendor has a different format of the release order and method of sharing. There was a very high risk of human errors and payment delays while manually handling the orders. The Nividous platform streamlines and automates as many manual tasks as possible within the end-to-to accounts payable process using natively embedded RPA, AI, and BPM capabilities.
4. Automation of the Entire Accounts Payable Process for a Leading Global Manufacturing Company
Nividous automated the entire AP process for this large manufacturing organization. Before working with Nividous, its AP department was manual in nature. It had multiple manufacturing plants and was receiving invoices in multiple locations, so its processes were entirely decentralized. Second, it used a large team to handle a high volume of invoices, making their processes cumbersome overall. Lastly, there was typically a large backlog of invoices because of the consistent high volume. This delayed payments to vendors and negatively affected 1) the company's brand image and 2) their relationship with valued third-party providers.
Nividous's intelligent automation centralized the company's AP processes. All invoices are now stored in one secure location, allowing team members to pick them up and read necessary data. From there, the system processes each invoice according to predetermined rules. Invoice processing time has significantly dropped as a result of automation, and the AP department has increased its operational efficiency and productivity. Now, it can process more invoices than ever before with the same team size.
5. Automated Expenses and Invoice Processing for One of the Largest Businesses in the Philippines
Before working with Nividous, this company's small AP team was manually handling a large number of invoices, which led to frequent backlogs. They were excited to explore OCR and automated invoice processing, but they also wanted to build a process flow specific to their expenses and reimbursement processes. There were no rules in place for different categories of employees, so lower-level employees could claim larger amounts of reimbursement than they should have been able to.
Automating the process led to the creation of automated reimbursement rules; barriers to expense entry specific to certain employee levels; and of course, RPA- and AI-driven invoice processing automation. In this case, end-to-end automation improved reimbursement consistency and provided additional support for its small invoice processing team.
How can my company get started automating AP?
If you're struggling with an inefficient AP process and suspect that automation might help, the first step is to get your stakeholders on board, including the accounts payable teams and/or the shared services center. Together, answer the following questions to get an idea of your current AP pain points, and whether automation is the solution:
What is the team size that's handling these invoices?
Do you have any goals to onboard more vendors?
Do you have plans to onboard more team members to handle a growing invoice volume?
Is your existing team overwhelmed with invoice volume?
Are your different AP teams drawing assignments and data from a centralized location?
Are those same teams handling the parts of the AP process specific to them?
Need help automating your AP process? The Nividous Platform can help.
Nividous has helped numerous companies overcome one of the most difficult business challenges today: processing invoices.
Invoices differ from vendor to vendor and from company to company, and may involve changing rules, OCR extraction, different invoice formats, and more. Through end-to-end automation and creative use of multiple automation tools, Nividous is capable of automating the AP processes at any company, saving your staff time and increasing their productivity.
If you are looking for a vendor that can help radically improve your AP processes, get in touch with the Nividous team. Request a demo or write to us at [email protected].